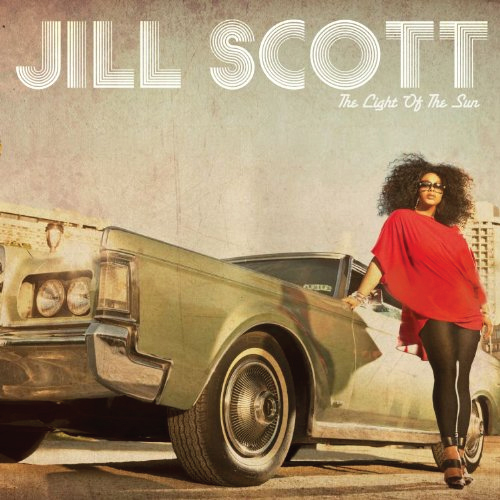 We get some more much needed music in the R&B genre this year, and it's definitely coming with high expectations. Ms. Jilly from Philly has earned a large group of followers based on her voice, artistic spirit and music. I've always been kinda lukewarm on her music outside of her debut, but I'll never stop being a fan. Her performance on the BET Awards is a prime example of what I love about her and how she does her thing. I know this review is late, seeing as how we were remodeling and all, but I promised y'all I'd get this review in. I stick to my word as much as I can. That said, let me get into The Light of the Sun.
1. Blessed
Produced by Dre & Vidal
I'm not a fan of this song, no matter how often I hear it. I don't tend to like songs where people sing off key, on purpose or not (generally speaking that is) and this is one of those songs. The background singers sound off, the chorus sounds like an attempt at changing the melody a'la Eric Roberson, but it's not appealing to me. I like the message, but I don't like the delivery on this one.
2. So In Love
Featuring Anthony Hamilton, Produced by Kelvin Wooten
I think this was the lead single. I think the old school feel of the song and having Ant on it initially had my interest, but the more I hear it, the less and less I like it. I can't even pinpoint why and thus, can't say that it's a bad song. However, this one I go right past as well.
3. Shame
Featuring Eve And The A Group, Produced by JR Hutson
If I'm not mistaken, this was the second single..and first song that really made me question buying this song. I wasn't impressed then and nothing has changed since I heard it the first song. I like Eve and the video had a decent feel to it, but the song itself doesn't do anything for me…along with the off key sounding "shame" singing.
4. All Cried Out Redux
Featuring Doug E. Fresh, Produced by Jill Scott
By this time in the album, I'm literally hoping for something to motivate me to keep listening. Again, I don't think the previous songs were bad, they just weren't my flavor at all. This song was what I needed. Jill goes WAY left here and grabs the illest party rocker out there in Doug E. Fresh and cuts a song that ends up sounding like a joyous break up song. The playful keys along with the beatbox from Fresh make this song fun and easy to listen to. really dig this one.
5. Le BOOM Vent Suite
Produced by Jill Scott and JR Hutson
THIS is the kind of Jill Scott I really enjoy. I could see her doing this at a open mic as part of her poetry set and not missing a beat. Sure, the song is simple and direct as hell, but it's so playful and delivery is creative at the same time. I love how she gives us different "BOOMS" to vibe out to and get the point across as well.
6. So Gone (What My Mind Says)
Featuring Paul Wall, Produced by Jill Scott and JR Hutson
Sensual Seduction? No, okay…I thought…nevermind. Damn, I had some of those glasses too…my ex sat on them and broke them shits…smh. Anyway, let's get to the music. On thing about JS for sure, she's not a punk when it comes to the sexual talk. I bet she tells you exactly what she wants…I'm all off track. This is one of the songs where the unorthodox chorus and singing kinda works…maybe the content gets this song over. Either way, I f*cks with it….pun intended?
7. Hear My Call
Produced by JR Hutson
Flat out, my favorite Jill Scott song ever. It maybe because its damn near right on par with my own spiritual journey. I love every second of this song, nothing else to type, it's just that good.
8. Some Other Time
Produced by Khari Mateen
Like I said before, when she goes back and does this poetic type stuff, I zone out and find nirvana. I like this look at dating from her perspective. I'd like to see her do an entire album with this kind of poetry/storytelling on it. The music on this one is really simple and easy to vibe out too, so it helps complete the feeling of this song.
9. Quick
Produced by Warryn Campbell
Man some songs really speak for themselves. Check if the lyrics don't do that on this song.
When you left me, couldnt believe it
I thought that we had magic
I thought that we were special
But it's over
Huh
Believe it, I can't fathom
This terrible reaction to checking my phone
Damn you're madder than a madhatter

Quick can't believe it's over
Quick can't you come over

Shit I miss you darling
Hee
I'm a one man lover
I'm not a Casanova
I can't believe it's over
So QUICK
I, I called you, you didn't call me
I wanted you
You didn't return my messages
How could you be so.. THICK

Had a lot of women on you
Didn't like the fact that I wanted to own you
That's what you said to me
Said that "I wanted to lock you down" but
You moved into my house
Gave me a son (mmh hmm mmh)

It was so QUICK the way that it happened
Quick the way that you left me
Quick can't believe it's over
Can't believe it's over now

I loved you, I really loved you
Can't believe that it's over
Can't believe that we could ever split
I feel it in my stomach
I can't seem to move on
I'm sick from the knots that's happening
Medicines just ain't helpin'
I just can't seem to get well.. And

Over. Can't believe it's over
Over. Can't believe it's over
Over. Can't believe it's over

So quick

(Over) Can't believe it's over
(Over) Can't believe it's over
(Over) Can't believe it's over
10. Making You Wait
Produced by JR Hutson
I'm not on the Steve Harvey bandwagon of making us guys wait for the sex ladies, but I respect a woman's choice to do so if she wants. That said, if that's what you're on, you should really listen to this one. As the title suggests, she's talking about making him wait and gives explanation as to why she's doing it. I think if someone sang this to me like she did, how could I be mad? It's a great song…especially when the radio would have you think you should get sex as soon as you ask for the name.
11. Until Then (I Imagine)
Produced by Warryn Campbell
Jill returns to her strongest suit talking about sex. Singing again on this one is kinda off-key and I'm starting to rethink my comment that I don't like it generally, because she's proven me wrong a few times on this album…I still don't like that first song though. What can you say to her saying "I imagine, myself on my knees, waiting on you to come over and free me?" Wait, did she say "…when I black out, and I come back, you still meet me in the eye, and you're still hittin' that?" Yeah Jilly from Philly got me curious as hell ova here…
12. Missing You
Produced by JR Hutson
This may be my shortest single song review but here goes…"GET BUSY MUSIC" that is all.
13. When I Wake Up
Produced by Jill Scott and JR Hutson
JR and Jill really work well together. They create moments together and this song is one of them that really stands out. If I ever get to see her live, I'm gonna scream out this song when/if she asks what song to do. I also gotta really dap up the production team because this song sounds like live instrumentation…it has really good depth to it and I enjoy that.
14. Womanifesto
Produced by Jill Scott
once again, READ IT. This is really good poetry.
Clearly I am not a fat ass
I am active brain
and lip smacking peach deep
sometimes too aggressive in its honesty
and heart sweet
that loves whole-ly and completely
whom it may choose
whom ever it may choose

I am not gonna lie and passify
I am arms to hold
I am lips to speak
I am a muthafucking "G"

Strong legs that stroll off the 33 bus
or out of a money green Phantom confortably
Knees that bend to pray
clean from Ajax washings
hair that is thick and soft
Thigh that be-twixt
an amazing all expense grand prize

I am eyes that sing
smile that brightens
touch that rings
and supply euphoric release
I am a Grand Dame Queen Beast

I am warm
I am peace
From the roads of Botswana to 23rd Street
From the inside third eye
ever watching this wicked wicked system of things
I do see

I am friend to pen
and a lover of strong women
A Diamond to men
I am curious and interested like children
I welcome the wise to teach
appreciator of my culture
Thick not just from bone dense and eat

I have a rhythm in my ways

http://www.elyricsworld.com/womanifesto_lyrics_jill_scott.html

and a practice in my seek
and yes I do crave the rhythm of my space
with a man that rejoyces in God's Grace

with faith I do hear to listen
two hands that fist
when forced pushes to shove
and your ego won't submit

I am gifted
I am all of this
and indeed the Shit

Clearly I am not just an ass
15. Rolling Hills
Produced by Blackstone, Randy Bowland, George "Spanky" McCurdy, and Eric Wurtham
Second favorite JS song ever. Seeing her do this live on the BET awards was the highlight of the show for me. I love the message she's putting out there on this song. yes, I'm going to post the lyrics again. I'm not taken by lyics so often these days, but she managed to put together another great song.
Maybe you don't recognize what you got between ya thighs
So I'm gonna set you right
And I'm starting here tonite
Shine like the moon
And strong like the sea
More expensive than money, more valuable than anything
Juicy mango summer peach
Make a lame man walk and a full man hungry

And if you don't know what I'm saying then baby I'm telling you

There's power in them rolling hills, come on
You're a prize position, not everybody's worthy
Only reason I know is cause I headed down that road
And it'd be a shame for you not to have your own glow

Maybe you don't recognize what you got between your eyes
So I'm gonna set you correct so you can get what you should get
Intuition's something deep
Let you know what you know, let you find before you seek
Spirit of determine, pray for it everyday
Let you know who should go and who you should let stay

And if you don't know what I'm saying then baby I'm telling you

There's power in them rolling hills, come on
You're a prize position, not everybody's worthy
To fell only reason I know is cause I headed down that road
And it'd be a shame for you not to have your own glow

There's power in them rolling hills, come on
You're a prize position, not everybody's worthy
Only reason I know is cause I headed down that road
I wanna see you glow, I wanna see you glow
Glow, I wanna see you shine
I mean all the time
Gotta let that light
Gotta let it shine so bright
Maybe you don't recognize

There's power in them rolling hills, yeah
You're a prize position, not everybody's worthy
Only reason I know is cause I headed down that road
And I wanna see you glow, I wanna see you glow
Glow, glow, I wanna see you glow

There's power in them rolling hills
Power in them rolling hills…
Bottom Line:
Like I said, going into this album, I was skeptical. Maybe that's why it took me so many spins to really digest this album and appreciate it. However, it has grown on me quite a bit. Even though I think this album could be called Soul of a Woman 2011, my love for women feels right at home on this album. I plan on buying this for my niece…I think she needs to hear this album after being told to rock her hips and god knows what else on the radio. Sure, Jill talks about sex, that's part of life, but nothing on this album feels sleezy to me no matter how many times she says Boom. I think if you're a fan of women, you'll be a fan of this album. It's a bit unorthodox at times…but so are women ya know?
Soulections: Pretty much song 4 on out.